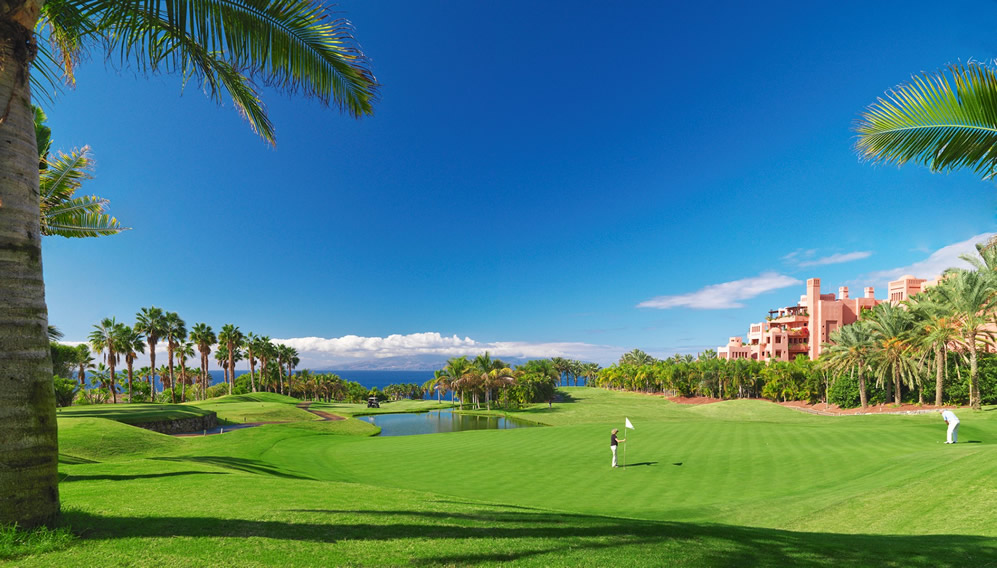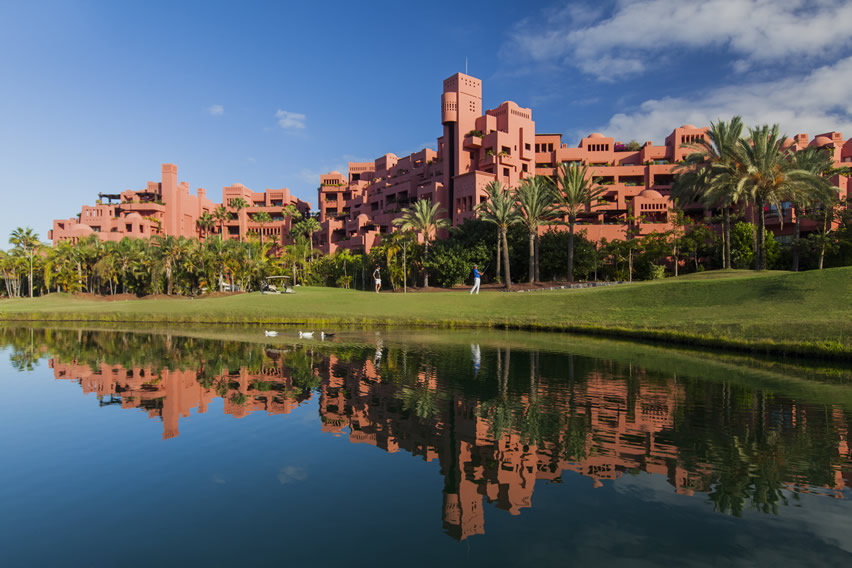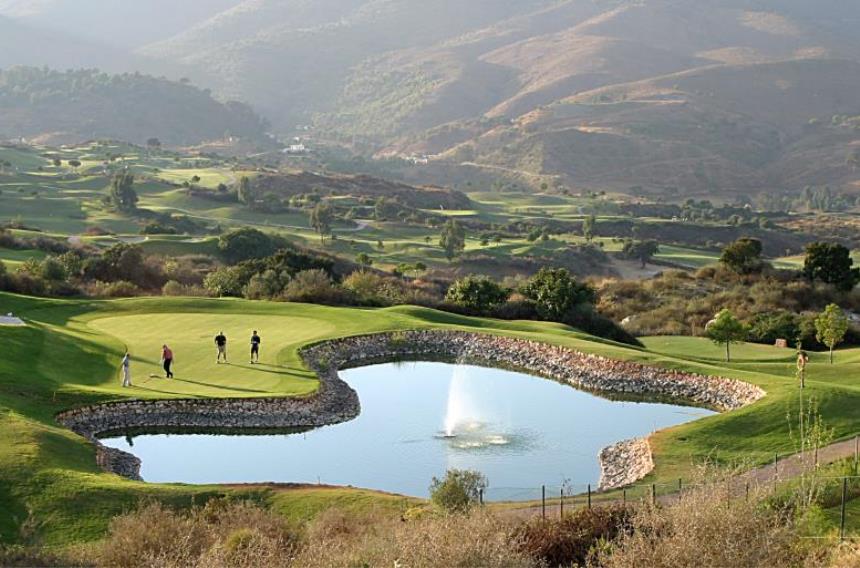 ∼ Be Exclusive.. With our Vip Golfing Service ∼
      Enjoy the top golf courses in Tenerife, Canary Islands.
Advance booking with our full assistance to take care of every detail. Full assistance for a smooth and memorable experience.
˜ Why not ask for our recommendations for your Villa or hotel booking too to give the complete package ˜
Tenerife in the Canary Islands is a paradise for golfers all year round,
We have an average yearly temperature of 23°C with a location just 4 hours flight distance from central Europe.
The island is home to some fabulous golf courses, offering a variety of challenges and spectacular ocean views.
ABAMA GOLF 
Built in 2005 by Dave Thomas, this young golf course on Tenerife is truly a masterpiece. Stunning location, with a creek and several lakes that turn into obstacles. The course also organises an annual pro am event in the spring. With incomparable views of the ocean and the surrounding Canary Islands.
Rising up the west face of the Teide Volcano to a peak elevation of 315m above sea level, this 6.271 metre paradise is the perfect choice for your Vip golfing experience , Abama Golf Course was created by the world renowned golf designer Mr Dave Thomas.  Acclaimed as one of the finest courses in Spain, this is a Golf course crafted to test and also surprise all golfers, no matter their level of expertise. The immaculately maintained 18 hole championship course contains over 300 species of subtropical plant life, including over 25,000 palm tress.  Almost all of the holes of the course have spectacular views of the Atlantic Ocean and the Island of La Gomera.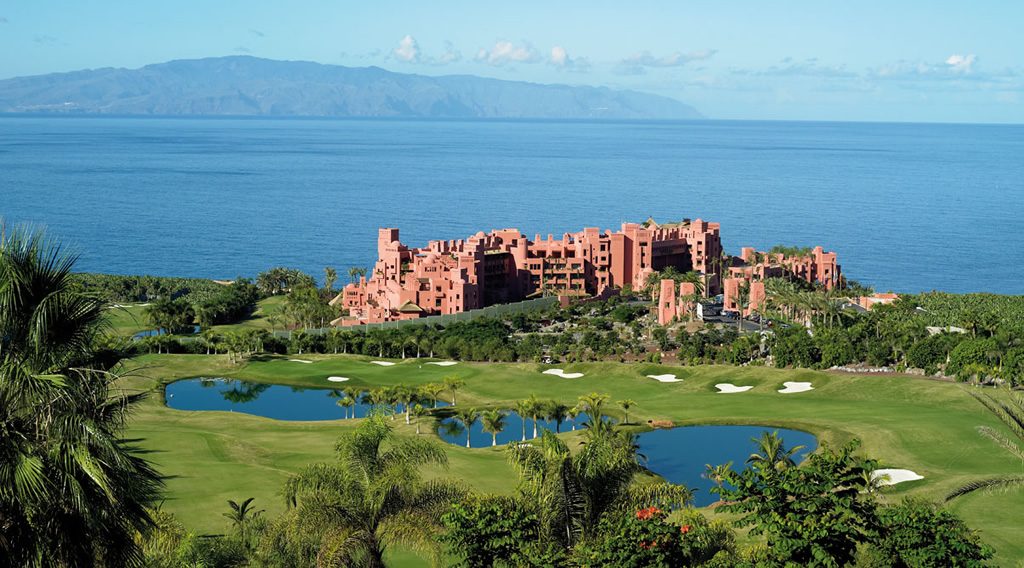 The stunning location boasts dozens of lakes connected by waterfalls as well as stunning waterfalls and white sand bunkers, the course is challenging enough to test even the most experienced golfer.
To complete perfection,the beautiful club house is situated in the centre of the golf course which allow the clients enjoy these magnificent views whilst they enjoy the facilities. Visitors are welcome all year round
Specification
Built 2005 // Designer Dave Thomas
Golf Professional: Mark Pursey
Type: 18 Holes // Par 72
Location: Southwest of island
Handicap Limit: 28 for men // 36 for ladies
GOLF LAS AMÉRICAS 
This outstanding course is situated in the heart of Playa de Las Américas, one of the most important tourist centres in the South of Tenerife, and was designed by John Jacobs. The course is noted for its excellent standards of maintenance and is widely regarded as a pure joy to play, except in windy conditions, when the water obstacles present a far more serious challenge. Golf Las Américas is a championship 18 hole par 72 course with an overall length of 6.051 meters (6.617 yards) with lakes, rivers and ravines meandering throughout the course. Top tip: The ninth hole runs downhill with a right angle dogleg to a large elevated green, offering a good chance for a birdie even for relative newbies to the sport.
Golf Las Americas is in a privileged setting, sitting as it does, in a natural ampitheatre, with a dramatic backdrop of mountains to the back and views across the sea to La Gomera at the front. A very gently sloping course, protected from the wind by the surrounding range of hills which create a pleasant environment. The course opened in 1998 and was designed by John Jacobs & Associates.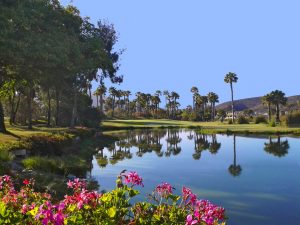 The designers gave priority to the obstacles on this exceptional golf course that is maintained to the highest standard and many holes have attractive water features which are home to breeding families of ducks, geese & swans. Once on the course, it is hard to believe that the hustle and bustle of Las Americas and Los Cristianos, Tenerife's main tourist resorts, is only a stone's throw away.
Enjoy the stunning views from the Golf Restaurant whilst enjoying a chilled glass of Cava or a delicious meal from their Menu.
Specification 

Built 1998 // Designer John Jacobs Golf Ass. Ltd
Golf professional: Marc Sabater
Type: 18 holes // Par 72
Location: South Tenerife
Handicap: 28 for men // 36 for ladies
GOLF COSTA ADEJE 
Designed by the internationally recognised Spanish architect José Gancedo, this 27 hole course opened in 1998. Thanks to a design that takes advantage of the naturally-ocurring characteristics of the land and landmarks from its former use as a banana plantation, the course is challenging but fair. Players enjoy amazing views over to La Gomera island and large, fast greens that are challenging to read. Top tip: This is a very popular course with fast rounds, and advanced booking is essential in the main season from September to March. Holes are quite long, making this a great choice for long hitters. The Golf Costa Adeje hosted the BMW Golf Cup International World Final 1999, Canarias Open de España 2003,
Tenerife Ladies Open 2005, 2008 y 2009  and the Spanish Open Ladies 2014
Specification 

Built 1998 // Designer José Gancedo
Golf Pros: José Molina, Laurent Petit, Eric Rikkers. Course Costa Adeje: Holes 18 // Par 72
Second Course Los Lagos: Holes 9 // Par 33
GOLF DEL SUR 
This 27 hole project with three 9-hole courses was designed by José Gancedo and Manuel Piñero and sits on the south east coast of the island. In all playable combinations, the courses add up to Par 72. Since its opening in 1987, it has been venue for international PGA tournaments and also long-hitter Karl Woodward's world record shot of 408 yards in 1999. The undulating course has wide fairways and elevated greens, with striking black volcanic sand bunkers and some tricky water hazards. All the courses require precise shots but the imaginative concept offers a lot of fun, beautiful views and the feeling of being in a naturally-occurring oasis thanks to preservation of natural flora and fauna around the course.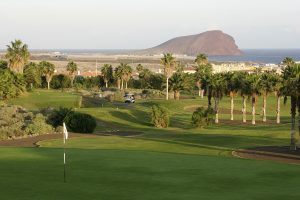 Top tip: The North Course is the most varied, and offers plenty of excitement from the "blind" first hole to the yawning out-of-bounds ravine on the edge of the 3rd and 4th holes, and a tricky water hazard that makes reaching the 7th green something of a relief.
Specification 
Built 1987 // Designers José Gancedo / Manuel Piñero Golf Professional: Francisco Millán
Main Course Campo A & C // 18 holes
Second Course Campo B // 9 holes
Location: Southeast Tenerife
Handicap: 26.4 for men // 36.2 for ladies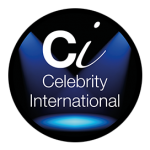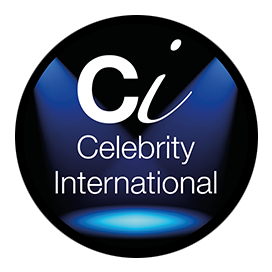 We are at your service & happy to guide you in the right direction! 
Contact us for further information,